Personal Growth
Online Course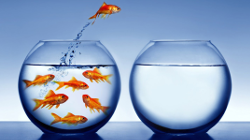 There are many inner-development and personal growth courses, but few are as practical as this course, Canviem, which as the name suggests, raises the possibility of changing our habits, our learned and unconscious ways that chain us to the reality that society has imposed on us.
Canviem accompanies you as you discover the truth, that we can be the owners of our own destiny, of our life.
And it shows you techniques, methods and systems for you to achieve it.
As we explained to you in the first class, free and freely accessible, we do not promise that it will all be sunshine and rainbows. What we do promise is that it is worth all the effort, and that it really is possible.
This course is the result of Josep Gimbernat's more than 30 years of experience with internal work and external results, together with Adonay Sanz's experience as a therapist in personal transformation and human improvement.
The synthesis of two different paths merging into one.
Two ages, two life experiences, a practical system for evolutionary change.
You can view the first class of the course free and without compromise to see if you like it.
Course pricing: 150€

(50% discount if you are a violet seeker)
If you wish purchase the course please login using your username and password or create a new account.


Enter the school:
---
For more information contact Josep Gimbernat

Questions