Soul Counseling - First level
Counsel with the tools of the Soul
Evolutionary counseling training


The group is full and the course is ongoing.
If you want to join a new group contact me.
The online training is open and may be started as soon as the student requires.
the evolutionary counseling training, Advising with the Soul, offers continuous learning through the combination of several tools: On-site courses, online courses, On-site and online tutoring; plus regular deep practices, in order to obtain the necessary preparation to advise our fellow men on a spiritual and evolutionary basis. At the same time, emphasis is placed on internal transformation during training.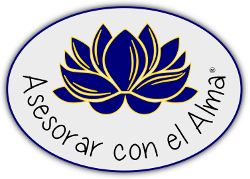 Soul counseling seeks to develop our contact with the soul, to learn how to let its energy flow through us and, applying the learned techniques, help develop our contact with the soul of people who ask us for advice.
Help them to know themselves more deeply, to discover the mission for which they were born, to discover their best qualities and, in short, to learn to truly BE themselves.
The training lasts 6 quarters, 1 year and a half, with a weekly class or its equivalent (two classes on alternate Saturdays, etc.) in its On-site mode.
Through the online course, the student sets the regularity of their own study and has 18 months to develop all the subjects.
At the end of the training, a diploma will be awarded according to the demonstrated ability of the student.
To help the with the training, video, mp3, presentations and pdf format with everything necessary to continue learning will be delivered.
We recommend subscribing to
Violet Seeker (What is it?)
to benefit from great advantages, 50% discount on courses, continuous tutoring over time, access to all material published online, etc..
syllabus
Required spiritual knowledge to provide proper counseling. Universal laws, evolutionary laws, how they affect us and how to use them. Meditation, theory and practice.
Introduction to the energies that shape the Universe. knowledge and interpretation of the Rays in our bodies. How to use the Rays in Counseling.
Introduction to huber's astrological psychology method. Astrological elements, signs, planets, houses, aspects,North Node. The five levels, what they mean and how to interpret them.
Astrological psychology II
Continuation of Astrological psychology module I. The three charts; birth chart, house chart, Nodal chart. Evolutionary line, past, present and future.
Astrological psychology III
Continuation of Astrological psychology module II. Planetary transformations, the three levels. Growth stress. The spiritual goal of the Ascendant.
Introduction to the numerology in personal interpretation. Personal identity, Key numbers, family inheritances, Way of life Challenges, Personal Cycles. What we've done in past lives, what we came here to learn. How to use numerology for counseling.
What they are, what they do, their purpose, their state. Problems due to an excess or a lack of energy, how to solve them. Interpretation of the focal points in the personal chart.
Personal development techniques with Astrological psychology.
How to use astrology in counseling. The importance lies in the consultant and his time, his present state. Ethical code.
Integrate rays, numerology, chakras and astrology in counseling.
Soul Counseling techniques. Learn how to find the best tool for each case. Helping a person in their evolution is not proof of being right.
techniques to properly learn the full use of the software: Astronex (astrological calculations) and Pythagoras (numerological calculations, Rays and Chakras).
---
For more information contact Josep Gimbernat

Questions